Nashville Flight Training team wins national all-female air race on first try
​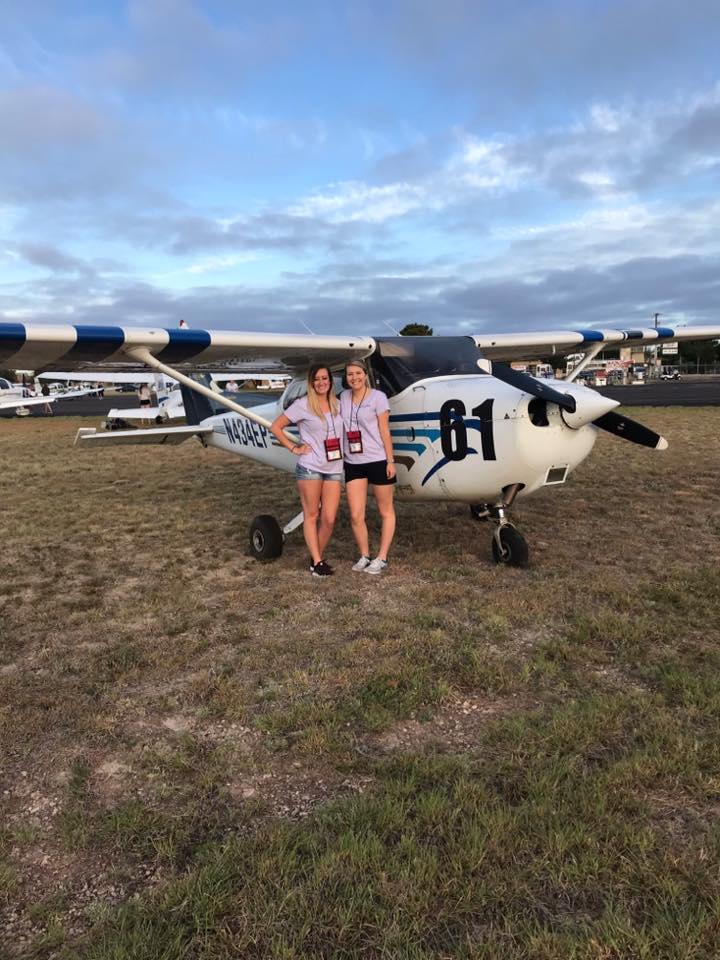 This summer, pilots Mariah Ferber and Paige Kessler, flying for Nashville Flight Training, won the 2018 Air Race Classic, an annual all-female aviation event stretching across 2,600 miles and 10 states over four days.
The team flew their Cessna 172R to victory based on the handicap speed assigned to their make and model aircraft. Mariah and Paige finished the race with an elapsed time of 5 hours, 50 minutes and 24.382 seconds. Their speed of 154.148 mph beat their handicap by 11.197 mph.
Mariah recently sat down with Mike Harris, chief pilot and host of the "Why We Fly" podcast, to talk about the team's recent victory and how they beat the odds to win on their first outing. Following are excerpts from the interview:
About the race…
The Air Race Classic is a VFR-only daytime race. Before the race begins, you fly a rectangular pattern and get your best airspeed. Then you're racing against yourself, trying to get the best tailwinds to beat your speed. That's how the points work. Sometimes the last person to finish can actually win the race.
The way you beat your own time is to find the best tailwinds. That includes picking the best altitudes, trying to wait and get the best day to fly versus flying on a day where there are headwinds.
About the aircraft…
We flew a Cessna 172 provided by Nashville Flight Training – 180 horsepower with just a six-pack [instrument panel] and Garmin GDL. So we had a GPS that was just for reference, and we used the iPad with ADS-B.
We didn't know this beforehand, but Paige ended up flying a little more than I did because she's going through instrument training, and her touch was a lot better than mine. She was holding her heading to within 2-3 degrees and her altitude within 10-20 feet. Then I'd get the controls and I'd be 50 feet and 10 degrees off. She was my private pilot student – here I am, an instructor with more hours, and my prior student is showing me up. Some aircraft had autopilot, so they had that advantage, but we were [hand-flying] the whole time.
Leading up to the race…
Paige received her Private Pilot's License in February, so I asked if she wanted to fly the Air Race with me. She said yes, so I said, 'Good, you need to go get 100 hours of PIC [pilot in command] time.' So I was constantly texting her before the race asking, 'Have you flown lately? How much have you flown? How close are you?' So I basically dragged her into this, and now we've both caught the fever.
Highlights of the race…
One of the biggest highlights of the race was that you're with so many other women pilots. In aviation right now in the United States, women pilots make up only about 6% [of the workforce]. So when we went, I was just amazed by all these really cool women. We met an older woman who had 25 patents and had won an Edison award. We got to meet Gene Nora [Jessen] who was one of the Mercury 13.
Our original goal was to place in the top 25. We made Nashville Flight Training proud. Everybody showed so much love afterward – on Facebook, texting us, saying, 'Congrats girls, so proud of you.'
What's next…
After winning the Air Race Classic, it really opened my mind up to doing so much more in aviation. I'd like to try aerobatics. I'd like to get my tailwheel endorsement. I'd like to fly my own aircraft outside the U.S., maybe the Bahamas or Canada, which is where the Air Race is going next year.
If you're out there and wanting to get your license, don't stop. Keep going. Get through that first solo, do your solo cross-country, get your private pilot [license], and keep adding to it. That's what aviation is – an adventure.
"We are beyond thrilled with the results of our race team," said Chris Erlanson, president of Nashville Flight Training. "Mariah and Paige have exceeded the expectations of our first year attempt in the Air Race Classic. Their skill has inspired not only our school but future female pilots who are wanting to learn to fly!"
Connect with the Air Race Classic Nashville team on Facebook at www.facebook.com/AirRaceClassicNashville/