So you've thought about it and now you're ready to fly at Tennessee Flight Training? Great!
What are your next steps?
1 – How about taking an introductory flight?
While it's not required, we always suggest that someone have their first experience as an introductory flight. An introductory flight is an excellent way to get to know what it's like inside a general aviation aircraft. You won't be served drinks or peanuts, nor will you get to meet the captain, but you will actually get to FLY the airplane with an FAA certified instructor. No joke, we'll make YOU the captain. It's fun!
Purchase your introductory flight.
Schedule your introductory flight (after purchasing).
2 – If you're 100% ready to go, let's do it.
You'll need to bring paperwork with you on your first lesson. When you come, please be sure to bring your driver's license as well as a birth certificate or a passport. We will copy those for our TSA security requirements. If you are a foreign student, please call us to discuss those requirements.
Schedule your first lesson.
Download and print our registration paperwork to bring with you.
3 – Register as a new user on our online scheduling system.
This will allow you to reserve flight lessons with your instructor on your schedule. Be sure to write down your login name and password. Your instructor will give you further instructions on how to utilize the system after your first flight lesson.
Register on our online scheduling system.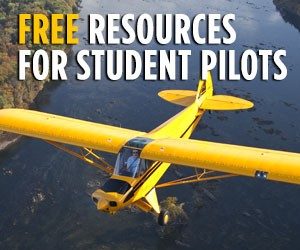 4 – Register as a student pilot with the Aircraft Owners and Pilots Association.
This is a FREE registration which will give you a FREE magazine subscription to FLIGHT TRAINING MAGAZINE. We love this magazine and all of our instructors read it monthly.  Register today!
5 – Schedule a flight physical with an FAA Medical Examiner.
As part of your training, you will be required to possess a medical certificate. While the medical certificate is not required during your first few hours of training, we suggest getting an appointment scheduled as soon as possible so that you will have your certificate in time for some significant milestones in your flight training.
Search a list of available Medical Examiners close to you
6 – Begin taking GROUND SCHOOL.
You can do this two different ways: (1) Scheduling one-on-one ground lessons with your instructor or (2) In a classroom setting. Keep watch on our website or call to see when our next classroom-based ground school is scheduled. We suggest students take ground school in tandem with their flight training. Some things are better learned on the ground than in the air.
7 – Get ready for your CHECKRIDE.
This is the most exciting time for a student. Your checkride is considered the final exam of your training. Don't let the word exam scare you though, since you'll be flying an airplane. Flying is FUN.
8 – After you achieved your Private Pilot rating, think about future RATINGS.
Sure, you can train for your private pilot's license and stop there or you can continue training as much as you like. Interested in flying through the clouds? Get ready for your instrument rating. Interested in teaching? You'll enjoy getting your CFI (Certified Flight Instructor) rating. Want to go to work for the airlines? We can get you there as well. Just ask!
Got more questions? Visit our FREQUENTLY ASKED QUESTIONS page.  But, don't hesitate to contact us at 615-366-9192. Looking forward to having you fly at Tennessee Flight Training!