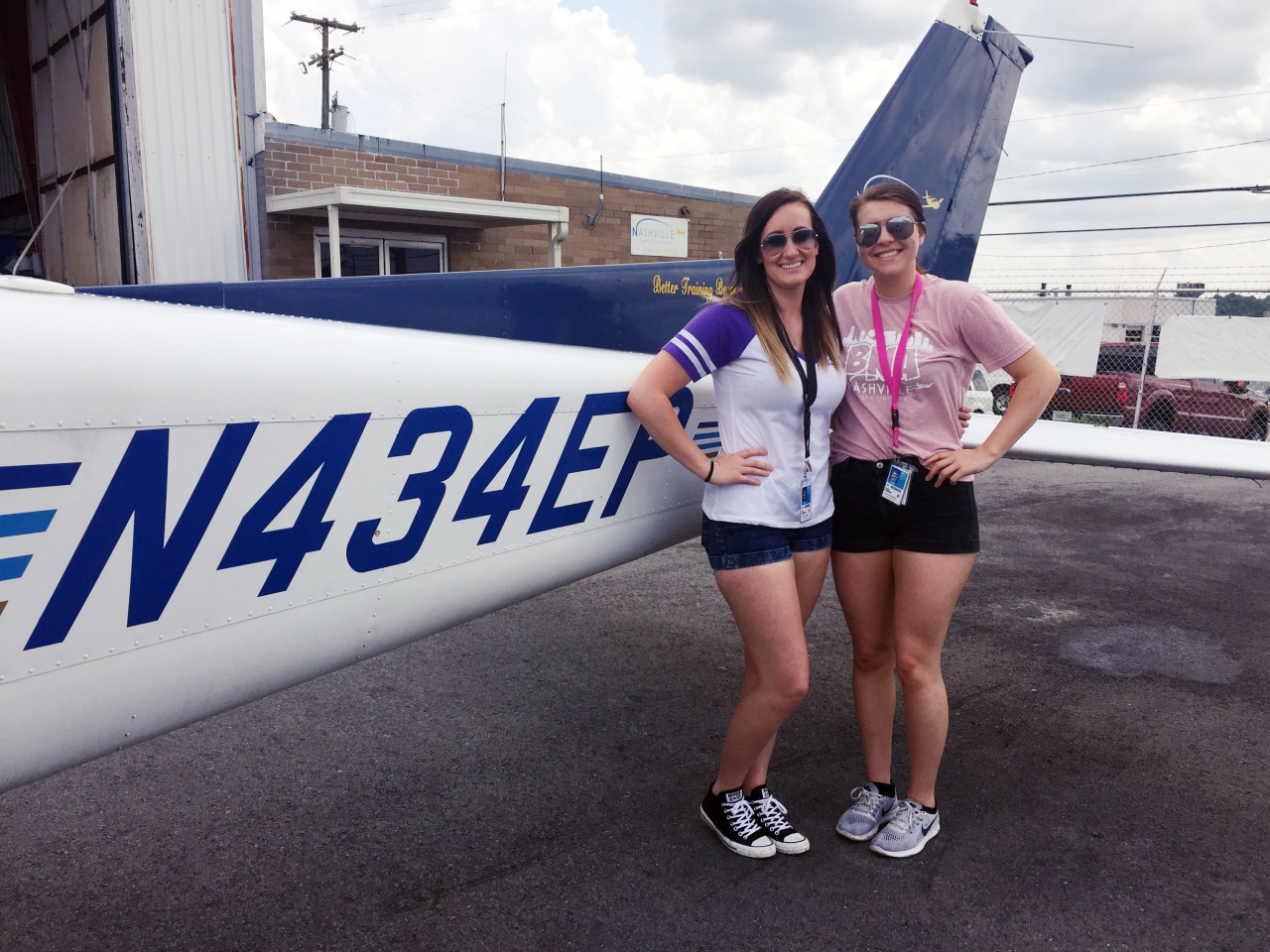 Two young women pilots will take off on the adventure of a lifetime this Friday, June 14, as they head to Jackson, Tenn., for the start of the 43rd annual Air Race Classic (ARC), the oldest airplane race of its kind.
Pilots Mariah Ferber and Paige Kessler, flying for Nashville Flight Training, won First Place in the 2018 Air Race Classic. The team flew their Cessna 172 to victory based on the handicap speed assigned to their make and model aircraft.
This year they're team #51, the Sky Climbers, taking the same aircraft and following the race route from Jackson to Welland, Ontario, along with nearly 50 teams from across the country.
"Meeting all these female pilots inspired me to further my career," Kessler said. "It gave me a push to keep going no matter how difficult it was. And now, just a year later, I'm a CFI (certified flight instructor) teaching people to fly!"
"Something I didn't expect to come out of last year's race was the connection to the history of women in aviation," Ferber said. "It really fueled this whole other passion for me to learn more and appreciate all the work that it took previous generations to enable us as women to be pilots."
The team credits good communication and safety as the secret to their success. They said that, if one was flying the airplane, the other was focused on communicating on the radio and navigating, making sure to stay clear of other aircraft on their route.
Nashville Flight Training's team is sponsored by Signature Flight Support BNA, Dare to Fly Fashion and Aircraft Spruce & Specialty Co.
Those interested in following along with the team can visit their Facebook page at facebook.com/AirRaceClassicNashville.
About the Race
Starting on Tuesday, June 18, nearly 50 small airplanes will launch full throttle, 30 seconds apart, down the runway at McKellar-Sipes Regional Airport in Jackson. From there, they will embark on an international course that will take them 2,538 miles to Welland, Ontario, in just four days.
Teams will face unfamiliar terrain and challenging weather as they put their piloting skills to the test, flying at maximum speed across nine states and one province, from the home of rockabilly and the blues in the American South across Midwestern farmlands, northward around the Great Lakes and across southern Ontario, ending near Niagara Falls. At each stop along the way, they will execute a high-speed low pass across a timing line, racing to reach the Terminus, Niagara Central Dorothy Rungeling Airport in Welland — named in honor of one of Canada's legendary aviatrixes — by the arrival deadline at 5 p.m. on Friday, June 21.
The nine intermediate stops are LaGrange, Ga.; Hattiesburg, Miss.; Bryant, Ark.; Lee's Summit, Mo.; Fairmont, Minn.; Wausau, Wis.; Sault Ste. Marie, Ontario; North Bay, Ontario; and Brantford, Ontario.
The Air Race Classic traces its roots to the 1929 Women's Air Derby, aka the Powder Puff Derby, in which Amelia Earhart and 19 other daring female pilots raced from Santa Monica, California, to Cleveland, Ohio. This year's ARC celebrates the 90th anniversary of that historic competition, which marked the beginning of women's air racing in the United States. Today, the ARC is the epicenter of women's air racing, the ultimate test of piloting skill and aviation decision-making for female pilots of all ages and from all walks of life.
This year's racers range from college students to a veteran competitor in her 90s. Some are flying the ARC for the first time, while others have dozens of races in their logbooks. Each race plane carries a team of two or three women: pilot, copilot and an optional teammate. The 2019 ARC is truly an international event — racers hail from 31 states and 1 province, and were born in or are citizens of the U.S., Canada, Britain, Fiji, France, Indonesia, Norway and South Korea. Of the 49 teams in this year's race, 17 are representing colleges or universities. On two of the teams, family members are racing together, and there are two military teams.
How long it will take each team to finish the race depends on the weather, the pilot's strategy and the speed of the airplane. The fastest planes may complete the course in two days, while the slowest aircraft may take all four days. But because the ARC is a handicap race, teams are racing against their own best time, not against one another. This allows slower planes to compete against faster aircraft on an equal basis.
Official standings aren't determined until after the last team crosses the finish line – the last arrival at the Terminus may, in fact, be the winner!
ARC fans can follow the racers' progress on airraceclassic.org.
About Nashville Flight Training
Established in 2010, Nashville Flight Training provides affordable flight instruction from award winning, FAA-certified instructors and offers state-of-the-art equipment. The flight training facility is based at the Nashville International Airport. More information is available at www.nashvilleflighttraining.com.
About the Air Race Classic
Air Race Classic Inc. is an all-volunteer, nonprofit 501(c)3 organization with a mission of encouraging and educating current and future female pilots, increasing public awareness of general aviation, demonstrating women's roles in aviation, and preserving and promoting the tradition of pioneering women in aviation. For more information, visit airraceclassic.org.