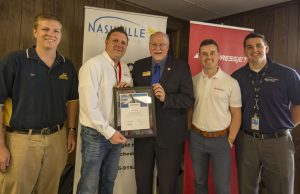 NASHVILLE, TENN. June 19, 2017 — Nashville Flight Training (NFT) and Embry-Riddle Aeronautical University Worldwide (ERAU-W) finalized an agreement offering NFT flight students an educational path to a Bachelor of Science in Aeronautics degree while working to receive a pilot license. The educational program makes it possible for NFT students to complete training as fully licensed and rated commercial pilots with the aviation-related university degree necessary for a commercial pilot career in the airline industry.
"We are excited to finalize an agreement with Embry-Riddle for a cooperative education path for our flight students," said Chris Erlanson, Nashville Flight Training owner and president. "This program offers our students an opportunity to receive an Embry-Riddle education while working toward a pilot license at our school, preparing them to enter the aviation industry as commercial pilots."
The agreement comes at a good time, as various industry reports indicate the supply of qualified commercial pilots is not meeting the needs for pilots in the industry. This agreement will allow NFT pilots to start in their careers for a smaller airline and then move into the ranks of the major airlines.
"Embry-Riddle is delighted to join forces with Nashville Fight Training to provide a career pathway for ambitious men and women who want to learn to fly in the commercial aviation industry," said Michael Kosher, director of business development and enrollment at Embry-Riddle. "We are excited to be part of this initiative."
About Nashville Flight Training
Established in 2010, Nashville Flight Training provides affordable flight instruction from award winning, FAA-certified instructors and offers state-of-the-art equipment. The flight training facility is based at the Nashville International Airport. For the last two years, Nashville Flight Training has been recognized for its high standard of accomplishment in flight training by the world's largest aviation association, the Aircraft Owners and Pilots Association (AOPA). The flight school was awarded a spot on the Flight Training Excellence Awards Honor Roll in 2015 and 2016, a title given to an elite list of flight schools from AOPA's annual flight training poll. Nashville Flight Training was also the launch partner school for the ExpressJet Airlines Preferred School Program offering aviation students career progression opportunities with ExpressJet Airlines, a wholly owned subsidiary of SkyWest, Inc. (NASDAQ: SKYW). For more information about Nashville Flight Training visit www.nashvilleflightraining.com.
About Embry-Riddle Aeronautical University
Embry-Riddle Aeronautical University, the world's largest, fully accredited university specializing in aviation and aerospace, is a non-profit, independent institution offering more than 80 associate, baccalaureate, master's and doctoral degree programs in its Colleges of Arts and Sciences, Aviation, Business, Engineering, and Security & Intelligence. ERAU educates students at residential campuses in Daytona Beach, FL and Prescott, AZ, and through the Worldwide Campus, which operates a globally recognized learning system that leverages online and face-to-face instruction and a network of education facilities designed to support student advancement in the United States and abroad. For more information about Embry-Riddle Aeronautical University visit worldwide.erau.edu.
 
###
Photo:
First Officer Jonathan Hester, ExpressJet Airlines, Embry-Riddle Aeronautical University Graduate and former Nashville Flight Training Instructor
Chris Erlanson, President Nashville Flight Training
Bill Gibbs, Director of Campus Outreach & Base Relations, Embry-Riddle Aeronautical University Worldwide
Captain Joey Cook, Manager – Flight Operations Hiring and Recruitment | ExpressJet Airlines