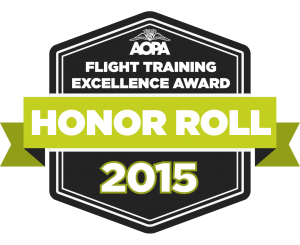 Tuesday November 3, 2015
NASHVILLE FLIGHT TRAINING RECOGNIZED FOR FLIGHT TRAINING EXCELLENCE BY NATIONAL ASSOCIATION
School selected out of hundreds of flight schools nationwide.
Nashville, Tenn – Nashville Flight Training has been recognized for its high standard of accomplishment in flight training by The Aircraft Owners and Pilots Association (AOPA), the world's largest aviation association. The flight school has been awarded a spot on the Flight Training Excellence Awards Honor Roll, a title given to high scoring flight schools from AOPA's annual flight training poll.
AOPA's Flight Training Excellence Awards were created to highlight the best flight training the industry has to offer. "All of us here at AOPA are proud and excited to recognize this year's winners," said Chris Moser, AOPA's manager of flight training initiatives. "The Flight Training Excellence Awards were created to recognize best practices in flight training—excellent customer service, quality education, community development, and sharing knowledge. The feedback from this year's poll makes it clear that the winners are providing high quality and effective training for their students."
"It is an honor to receive this recognition," states Isaac Shrum, Nashville Flight Training's Director of Sales and Marketing. "We are proud of this award as it is a showcase of the commitment to excellence by both our staff and our students. We're also grateful for the support from the community as well as our partnerships with Signature Flight Support and Nashville Airport Authority and look forward to pursuing our continued commitment of training excellent and safe pilots."
The 2015 awards were drawn from flight students and pilots who voluntarily reviewed their flight training experience last summer through an AOPA online poll. The process yielded an evaluation of 788 different flight schools and 1,533 individual flight instructors all over the nation.
Nashville Flight Training was started in 2010 with their base at Nashville International Airport. The flight training facility features state of the art equipment and award winning instructors capable of taking a student from initial private pilot training to careers in aviation. Since its' inception, Nashville Flight Training has offered instruction to hundreds of students. For more information, visit their website at www.NashvilleFlightTraining.com or call 615-366-9192.
###