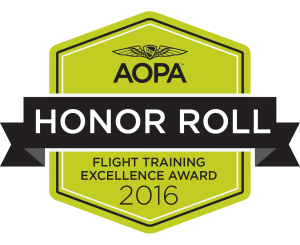 Nashville-based flight school, Nashville Flight Training, has been recognized for its high standard of accomplishment in flight training by the world's largest aviation association, the Aircraft Owners and Pilots Association (AOPA). The flight school has been awarded a spot on the 2016 Flight Training Excellence Awards Honor Roll, a title given to high scoring flight schools from AOPA's annual flight training poll.
AOPA's Flight Training Excellence Awards were created to highlight the best flight training the industry has to offer. "This year's winners are great examples of high quality and effective flight training. The recognition is well deserved," said Chris Moser, AOPA's senior manager of flight training initiatives. "The Flight Training Excellence Awards were created to recognize best practices in flight training—excellent customer service, quality education, community development, and sharing knowledge. We are excited to spotlight their excellent work."
"To receive this award two years in a row has been humbling to say the least," said Chris Erlanson, Nashville Flight Training president. "We're thankful to the AOPA for recognizing us with this accolade and recognize that we couldn't do it without our outstanding instructors, support staff and of course the best students in the world."
The 2016 awards were drawn from flight students and pilots who voluntarily reviewed their flight training experience last summer through an AOPA online poll. The process yielded an evaluation of 789 different flight schools and 1,515 individual flight instructors.