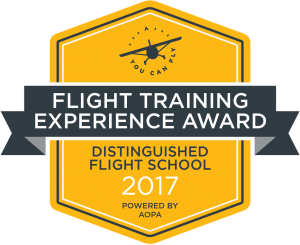 NASHVILLE FLIGHT TRAINING RECOGNIZED AS DISTINGUISHED FLIGHT SCHOOL BY THE WORLD'S LARGEST AVIATION ASSOCIATION
Nashville Flight Training has been recognized again for a high standard of accomplishment in flight training by the world's largest aviation association, the Aircraft Owners and Pilots Association (AOPA). The flight school has been named a recipient of the 2017 Flight Training Experience Award and recognized as a Distinguished Flight School, a title given to highest-scoring flight schools from AOPA's annual Flight Training Experience Survey. This is the third consecutive year Nashville Flight Training has been honored with a spot on the prestigious aviation industry list.
"This year's group of schools and CFIs were especially close as we analyzed the results of the 2017 Flight Training Experience Survey," said Chris Moser, director of AOPA's Flight Training Initiative. "It gives me great confidence to both hear about some incredible flight training providers and to see how much their customers truly value them."
AOPA's Flight Training Excellence Awards were created to highlight the best flight training the industry has to offer, recognizing best practices in excellent customer service, quality education, community development, and sharing knowledge. The 2017 awards were drawn from flight students and pilots around the world who voluntarily reviewed their flight training experience last summer through an AOPA online customer satisfaction survey. The survey included reviews of 1,048 different flight schools and 2,012 individual flight instructors.
"We are honored to have a place again on this respected aviation industry list," said Chris Erlanson, Nashville Flight Training president. "We're proud of our instructors and support staff who share a passion for and commitment to excellence in aviation. I am thankful to the AOPA and our students for recognizing their hard work."
About Nashville Flight Training
Established in 2010, Nashville Flight Training provides affordable flight instruction from award winning, FAA-certified instructors and offers state-of-the-art equipment. The flight training facility is based at the Nashville International Airport. Information about Nashville Flight Training is available at www.nashvilleflighttraining.com.